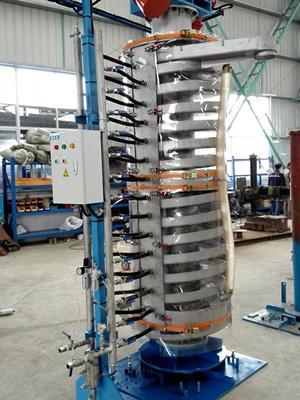 Applications
The steam jacket spiral conveying dryer is designed for continuous transportation, heating, and drying of materails used in the production of engineering plastics. The dryer uses steam to heat the materials and is capable of drying 500-4000kg/h.
Material types
Vibrating spiral conveyors are standard equipment for many industries to elevate bulk materials. They can convey, dry and cool plastics granules, rubber granules, chemical and pharmaceutical intermediates, metal salts, welding powder, glass batch, catalysts, abrasives and ash as well as milk powder, powdered coffee, tea, nuts, nutrients and cereals
Parameter
Grade
SCD05-30
SCD1-40
SCD2-50
SCD3-60
SCD4-70
Nominal Capacity (kg/h)
500
1000
2000
3000
4000
Diameter (mm)
Ø600
Ø700
Ø800
Ø900
Ø1000
Inlet Height (mm)
600
680
700
800
900
Outlet Height (mm)
3000
4000
5000
6000
7000
Motor Power (Kw)
0.75*2
1.1*2
1.7*2
2.3*2
2.9*2
Heating Pressure (bar)
5
5
5
5
5
Heat Transfer Medium
steam
Drying Time \ (min)
3-4
4-6
5-7
6-8
7-9
Operational Principle
The steam jacket spiral conveying dryer has a steam jacket at the bottom of the disc, which makes the material roll continuously in the process of vibration transportation. It is continuously heated uniformly. The heating temperature can be adjusted, and the drying index is stable and controllable.
Features
The steam jacket formed by die stamping can withstand 6 kg of pressure without deformation, and the surface temperature of the vibration disc can reach up to 150 degrees.
The material lifting machine features high temperature and high voltage resistance because of the high strength composite steam hose. The machine can vibrate without cracking or air leakage for long periods of use.
It uses high-strength stainless steel sealing joints that can withstand thermal shock without leaking.
The conveying dryer has an intake tower and a dewatering tower with a thermal insulation layer outside, which is controlled by a ball valve.
Lifting dryer makes several materials to be used continually after quick cleaning because of the compact and easy-clean design.
It is 50% lower than the energy consumption of traditional hot air drying because there is no hot air to carry energy loss.
A vibrating roll ensures no materials are left inside the machine and to ensure stable and dry delivery of materials.
Customers can add nitrogen protection to prevent material oxidation deterioration in high-temperature working processes.
Users can adjust the oscillation frequency and exciting force (exciting force) of the dryer to adjust the transporting velocity and transporting yield to meet the different drying time requirements of variety materials.
It can be configured with an optional electric steam generator. The heat load is 24-50 Kw and its steam pressure can be adjusted.
It is equipped with an optional soft water system option and treat the fresh water by the ion exchange resin.
Steam condensate can be recycled to save water and electricity.
The steam jacket spiral conveying dryer can be operated without preheating to save operating time.
Chilling water can further strengthen cooling effect in the jacket of the device discharge segment.
According to customer needs, spiral conveyer can be configured outside insulation, such as well-formed stainless steel cover or silicone case to meet different materials production.
Gallery
Index
bulk material handling equipment, lifting conveyor, vertical conveyor, granule conveying