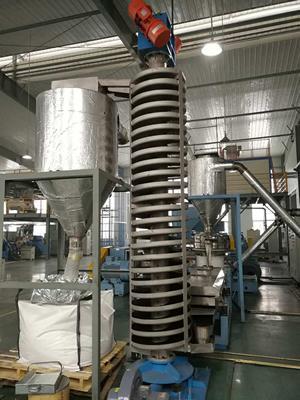 Applications
The air-cooling spiral vibrating conveyer uses its blower to dry and cool the material through its holes on its central column, which is suitable for the cooling and drying of high temperature materials in modified plastic production lines. We can provide vibrating conveyers with a throughput of 500-4000kg/h.
Material types
Vibrating spiral conveyors are standard equipment for many industries to elevate bulk materials. It can convey, dry and cool plastics granules, rubber granules, chemical and pharmaceutical intermediates, metal salts, welding powder, glass batch, catalysts, abrasives and ash as well as milk powder, powdered coffee, tea, nuts, nutrients and cereals.
Parameter
Grade
SCT05-45F
SCT2-55F
SCT3-65F
SCT4-85F
SCT8-50F
Nominal Throughput (kg/h)
500
1000
2000
3000
4000
Diameter (mm)
Ø600
Ø700
Ø800
Ø1000
Ø1300
Inlet Height (mm)
640
700
700
700
800
Outlet Height (mm)
4500
5500
6500
8500
5000
Motor Power (Kw/3phase)
0.75*2
1.7*2
2.3*2
2.9*2
5.0*2
Cooling Model
Fan blow
Resident Time (min)
4-6
5-7
6-8
7-9
6-7
Features
The spiral vibrating conveyer cools the material by creating air flow from the center column. The longer the material flow passes, the better the cooling effect will be, because of its spiral structure.
The equipment is easy to operate and maintain.
Gallery
Index
bulk material handling equipment, lifting conveyor, vertical conveyor, granule conveying