Since the company's foundation, Plastiger Machinery has been committed to providing comprehensive solutions for modified engineering plastic auxiliary systems. Our main focuses lie in drying technology, vibration technology, modified plastic production process design, and system integration. Our engineers have rich experience in the production of modified plastics and production process design. We provide customers with plans that take into account each stage of the production line that meets their production needs, including upgrading existing plastic production line components.
When properly implemented, our customized solutions have helped customers achieve rapid drying in the process of lifting materials, reducing dust pollution during screening, and preventing blockages and overflows during extrusion. During the production process of modified engineering plastics, we utilize various pelletizing methods according to the types of plastics and output demands. Common pelletizing methods include, strand pelletizing, underwater pelletizing, air-cooled hot die face pelletizing and water ring pelletizing.
We can supply equipment used in the following production lines or upgrade the customer's existing production line.
Strand Pelletizing Line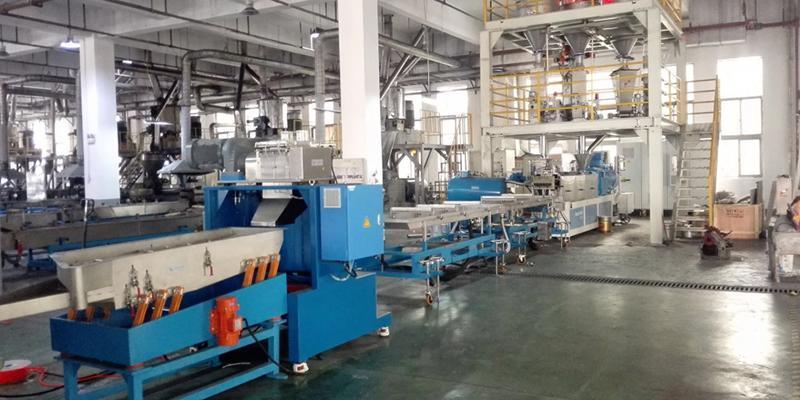 Process configuration
Extruder (user's existing extruder)
Sink(cool down)
Dewatering unit
Strand pelletizer
Vibrating screen
Vibrating spiral elevator
Silo
The strand pelletizing line is mainly designed for the granulation of different plastic materials, such as PA, PE, ABS, PVC, PP, PS and other engineering plastics, mixed plastics and non-water absorbing color masterbatch. The production line consists of a strand die head, cooling trough, and cold cut strand pelletizer. We can provide you with the material cooling, drying, and lifting equipment compatible with this line to ensure that the material is fully dehydrated, dried, quickly cooled, and reliably conveyed to the silo during these production processes.
Underwater Pelletizing Line
Process configuration
The Loss-in-weight Feeder
Silo
Premixer
Extruder
Vacuum degassing unit
Screen changer
Underwater pelletizer
Centrifugal dryer
Vibrating screen
Finished product silo
This plastic pellet production line is specially designed for the granulation of materials such as PE, PP, PS, PVC and other engineering plastics, high-viscosity materials, and high- throughput materials. The machine is made up of a underwater pelletizer die plate, warm water circulation system, separation system, and screening system.
We can equip the production line with a vacuum cleaning station, vibrating classifier and spiral vibration elevators to improve the quality of the modified plastic products and optimize the working environment of the customer's workshop.
The vacuum cleaning station we designed is compatible with the customer's extruder. It can cool and purify vacuum devolatilized flue gas step by step so as to solve the problem of the overflow in the vacuum system of the extruder, the clogging of the oil condensate and the scaling of the vacuum pump impeller because of the design of the multi-section flue gas purification tank.
Air-cooled die-face pelletizing
Process configuration
Metering Feeder
Twin screw extruder (user's existing extruder)
Air-cooled hot die face pelletizer
Cyclone separator
Air-cooled vibrating screen
Silo
This production line is used for pelletizing materials such as high filled masterbatch, PE, PP, PVC and other engineering plastics and thermoplastics.
It can also configure drying systems with volatile organic compounds (voc), removal equipment, and vacuum dryers according to customer needs to enhance product drying and deodorization to improve overall production quality.