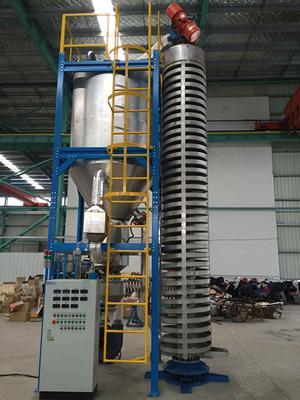 Applications
The pellet dryer can effectively devolatilize and deodorize the low-molecular organic residue inside the plastic surface. It is applicable to various modified engineering plastics and rubber products due to its continuous drying, devolatilization and deodorization functions.
Operational Principle
The material is evenly distributed from the feeding system into the dryer, and the material on the bottom first passes through the waste heat recovery bucket, the heating bucket and the main drying-devolatilization bucket. Material is then evenly distributed using a pulse mode.
The drying equipment uses an external fan blower move heat into the waste heat recovery section of the lowest end of the drying cylinder for the cooling and drying of the material.
During the material cooling process, heat from the materials being dried will dissipate, and form hot air.
The heating wind then rises through the heating section of the column tube, heating the tube to the process temperature. The wind then enters the main drying cylinder in order to achieve heating and drying.
Features
It has a high cost performance, and carries out drying, promotion, deodorization and fully automatic continuous use of the equipment. This drying equipment can be customized and matched with existing equipment.
The material continues to flow in a dynamic manner, and every time the material remains in the dryer, it will be heated in an even process.
The processing temperature and time can be adjusted quickly according to the material needs.
The temperature is adjusted through the combination of a conduction oil jacket and cooling column tube or heating panel.
The dried and deodorized material is processed in the waste heat recovery section. It can be directly cooled to the packaging temperature, and effectively utilize residual heat in order to reduce electricity consumption in the heating section.
The drying system achieves complete preheating of the waste heat on the initial cold material in the top layer, and the residual heat can be recycled through a reasonable inlet flow control.
The internal structure is simple and easy to clean and switch.
The drying system is known for its low power loss, large capacity, and gravity homogenization functions when combined with the backflow homogenization device and spiral vibration lifting unit. The unit can also be designed with a large volume as needed.
Due to the small footprint of the equipment, it is easy to configure on the basis of existing production lines.
Benefits
The drying devolatilization effect is stable and the product quality is uniform.
Low investment, low energy consumption, small noise and low equipment maintenance.
Gallery
Index
drying equipment, dryer, vertical conveying