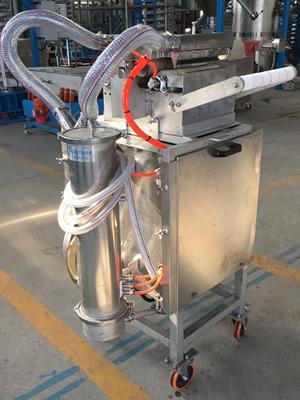 Applications
The strand dewatering unit for strand pelletizing can quickly remove the residual water on the surface of the strip. The air knife drying system is widely used for processing of various modified engineering plastics and masterbatches.
Parameter
Grade
HF30-C
HF40-C
HF55-C
Length*Width (m)
0.6*0.8
0.8*0.9
0.8*0.9
Operation Level (m)
1.1-1.4
1.2-1.5
1.2-1.5
Suction Area (mm)
200*60
200*100
200*200
Strands Number
1-10
1-20
10-50
Fan Rating
3.0Kw/380V
4.0Kw/380V
5.5Kw/380V
Drain Type
Gravitation
Operational Principle
The strand dewatering unit for strand pelletizing uses the negative high-pressure airflow generated by the fan to quickly remove the water from the surface of the material, and the efficiency cyclone separates the liquid to drain outside.
Features
Suction and dehydration are completed simultaneously.
Simple suction filtration and drainage can meet most production line requirements due to its high cost performance and easy -cleaning.
Low energy consumption and small noise.
Gallery
Index
dewatering equipment, dryer, pellet drying