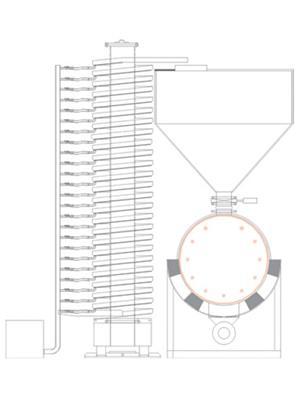 Applications
The parallel vibration conveyance drying & SSP system is used in the plastic production lines for various modified engineering equipment in order to achieve a solid phase polycondensation reaction of polymer materials, as well as improve the viscosity and performance of the products. The heat exchange area can be used to preheat and dry the plastic particles, then raise them to a specific height. The parallel vibration conveyance drying system is our own self-developed equipment, and it can be customized to work with existing plastic production lines in customer workshops.
Operational Principle
The material enters the vibration lift dryer first and is then preheated to a certain temperature in the conveying process. It then enters the intermediate insulation bin.
The material is quickly sent into the vibrating vacuum dryer to conduct deep drying under valve control. The heating medium includes various forms, including hot water, steam and heat conduction oil, and the heating temperature ranges from 25 to 250°C. Different heating mediums and control temperatures are chosen based on different materials.
Due to the non-rotating joint, the materials can be dried under high vacuum conditions for long periods of time, and the solid-phase condensation reaction can be induced under certain temperature conditions in order to enhance the viscosity of the polymer materials.
Features
Due to the preheating and vacuum drying viscosities working together, the process cycle is significantly reduced.
The vibration lifting machine has two functions: heating and drying.
The drying temperature and time can be set by customers to meet the drying needs of different materials.
Index
drying equipment, dryer, vertical conveying